2-Night Cruise
on Margaritaville at Sea Paradise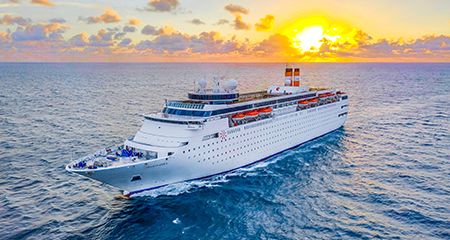 A Quick & Easy Getaway to Paradise
Get ready to embark on a quick, easy, fun 2-night getaway that makes you the captain of your amazing experience. Best of all, we set sail every other day of the week, so we're ready to go whenever you are. From the moment you board, you'll never be bored. Our ship is packed with endless fun and activities for everyone! Dance under the stars or wherever the moment strikes. Dine to your heart (and stomach's) content as you pair gourmet meals with delicious handcrafted cocktails.
Let the freedom and relaxation of the sea come to life as you rejuvenate at the spa. Roll the dice in the casino and own the night. Enjoy live entertainment, from vibrant Vegas-style shows to hilarious late-night comedians. And so much more. As you reach your destination on Grand Bahama Island, the fun will just be starting! Explore this awe-inspiring island with a shore excursion, kick back on the clear white-sand beaches, or shop for that perfect tropical souvenir. It's all ready and waiting for you.
Family Vacations
Romance and Honeymoons
Sun and Sand
About Margaritaville at Sea Paradise
About Margaritaville at Sea

Margaritaville at Sea is the only 3-day, 2-night cruise sailing from the Port of Palm Beach to Grand Bahama Island. A floating island vacation, Margaritaville at Sea Paradise brings together the iconic Margaritaville lifestyle with the ability to escape and sea the world.
From non-stop entertainment like "Tales from Margaritaville: Jimmy's Ship Show," a musical odyssey written and produced by Jimmy Buffett and Producer Frank Marshall, to Margaritaville-inspired food and beverage optio
...